Training Room Zürich West
The spacious and well-equipped training room "Zurich West" is located in Zurich's up and coming region of the same name.
Getting there is easy, thanks to direct tram access to the Zurich main train station, easy access from the S-Bahn stations Zurich-Altstetten and Zurich-Hardbrücke, and several parking garages near the start of the Autobahn to Bern and Basel.
Location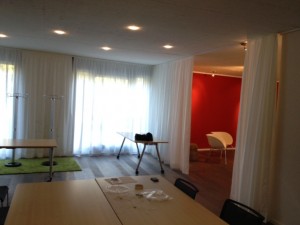 "Orion Building"
Hardturmstrasse 181
8005 Zürich
Ground Floor, left
 Nearest Public Transportation
from Zurich HB take

Tram 17 to Zurich, Fischerweg, 9 Minutes

from Zürich Altstetten or Hardbrücke (Zurich-Schiffbau)

Tram 4 to Toni-Areal, 5 Minutes + 7 Minutes on foot
Nearest Parking
Parkhaus P West, Förrlibuckstrasse 151, 8005 Zürich, currently CHF 15.00 for 10 hours.
Parking lots along Tram 17

Hardhof, Under the Europabrücke, currently 50Rp/hour, Bring change. The machine takes 5 Frank pieces.
EWZ, Hardhof 1, right next door Parking Hardhof, same rates, different machine
Park & Ride Zurich Hardturm, 600m, 7 minutes. Rate information.
Nearby Restaurants
Brasserie Bernoulli, Hardturmstrasse 261

Salotto Hardturmstrasse 169

La Torre (Pizzeria), Hardturmstrasse 126

As well as many others in Zürich-West near Escher-Wyss Platz
Nearby Accommodations
Hotel 25 Hours, Zurich West, Pfingstweidstrasse 102, 8005 Zurich – ask for a discount code!
Hotel Ibis, Schiffbaustrasse 11, 8005 Zürich, +41-44-276-2100
Novotel Zürich City-West, Schiffbaustrasse 13, 8005 Zürich, +41-44-276-2200
Hotel Senator, Heinrichstrasse 254, 8005 Zürich, +41-44-448-1818
For your course or workshop
This room is also available for your own training or meeting. Find out more!