Learn to Fly Over the Bar: Scrum Ambassadors Group
Become a great Scrum Trainer and Coach
As a Certified Scrum Trainer, we teach hope. — Joe Little, CST
Application deadline to participate in the fall retreat is August 15, 2019. Corrected date for the retreat Septemter 19-22, 2019.
Online Mentoring with optional co-training for aspiring CST's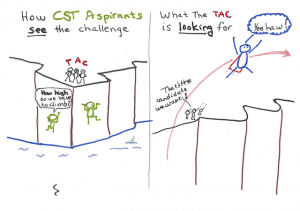 The Scrum Alliance does not recruit trainers – you strive to become one! Two things are particularly challenging: 1) getting your first CST to work with you at the beginning of your voyage and 2) appearing before the Trainer Acceptance Committee and demonstrating that you can fly over the bar. Many people go before the approval committee several times before being accepted.
Do you want to "fly over the bar"? If you do, I want to help you! I have been a Scrum Alliance Certified Scrum Trainer since 2012. I know it can be hard to get accepted — I want your voyage to be as easy as possible!
The program is for people who are serious about becoming a CST. When you join this group, you join an international community of individuals who are committed to learning and helping each other become great trainers and Ambassadors of Scrum!
What you can expect
I will help you on your voyage. I will accept you into the program if you meet the criteria published on this page. During your voyage, I will give you honest and clear feedback about your progress. As soon as I believe you can "safely fly the airplane," I will recommend you to the Scrum Alliance. I will not "string you along" nor do I expect you to substitute for my own sales and marketing activities.
What you bring
If you meet these criteria, you can become a member of our group:
You are serious about becoming a CST
You have achieved at least a Certified Scrum Professional Certification from the Scrum Alliance
You have read and understood the criteria for becoming a Certified Scrum Trainer according to the Scrum Alliance
You have taught at least one CSM-like course
You have prepared your training materials to teach a CSM
You have humility about your own knowledge and willingness to learn from others
You have a willingness to share and support other Aspirants on their voyage
You can commit to attending our monthly online call, every 4th Thursday at 11:00 CET
If as a co-trainer, you want to teach more than 50% of a class, you will need to
Organize the CSM class and attract at least 10 participants
Pass a stage check with me that confirms the depth of your Scrum Knowledge
Offer a reasonable business case for me to do the class.
I do not charge an extra fee for co-training with you. As with any other private or public training, we share the revenue generated.
Generally, I do not have capacity to co-train with people who are not part of the Aspiring Ambassadors group. I can make exceptions for Aspirants with recommendations from at least 3 CSTs.
Earning your recommendation
I do not guarantee recommendation. To earn a recommendation from me, you must:
Be fully committed to the co-training process when we are together
Observe me teach one CSM class and debrief it with me.
Co-train at least one class with me. Your goal is to convince me that you can engage a class, tell authentic stories, and answer real questions about applying Scrum. You will lead at least one section. Again, we will debrief thoroughly.
Demonstrate leadership in the community or the marketplace. Other leaders should be interested in what you have to say.
Demonstrate that you can fly over the bar by teaching a CSM class with me. Although this is technically a cotraining, you take charge of the entire course, from first customer contact to final follow-up.
What you get
Access to monthly supervision & "peer-vision" call with Peter Stevens and fellow CST aspirants. Approximately 1 to 1.5 hours per month. Ask any question you want during this call.
Access to our semi-annual Retreats – hone your training skills in preparation for the oral exam in front of the TAC.
Right to attend my public CSM or CSPO classes or online workshops as an observer on a non-profit basis* — a savings of up to CHF 2'510 per course, depending on the course and venue
Right to attend my online PAS Personal Agility System Workshops (worth CHF 1'000 per workshop)
Access to my CSM & CSPO Materials
Access to community Trello board, Forum and Slack channel for easy communication and discussion
My commitment to help you get ready
My commitment to recommend you as soon as you are ready
Clear guidance on how to improve if I am not ready to recommend you.
My help in finding other co-training opportunities
*Non-profit basis means that if there is an incremental cost to have you participate in the course, e.g. a venue fee from the hotel, you pay that, but neither I nor the marketing partner make any money on your presence. And if the incremental cost is zero, there is no charge to you.
Additionally you can choose additional support:
Co-Training with your customers.
Fine print: I reserve the right to limit the number of observers in my public classes.
Save the dates!
Our monthly calls are held every four weeks, starting on Week 5 (January 31, 2019). 11 Calls per year. Our retreats are held about 4 to 6 weeks before the Global Scrum Gatherings. The next retreats are scheduled for:
September 19-22, 2019, Near Zurich
Do you qualify for the program?
In general, anyone who meets the criteria may join the program. An interview is required, and some criteria are bit negotiable. Applications are accepted in January and June.
How much does it cost?
The prices depend on the cost of CSM classes in your country. If the typical, non-discounted price is over USD 1,000, then you're in Group A. So Group A includes all countries in Europe and North America plus Israel, Japan, South Africa, Australia and New Zealand, and possibly some others. Group B countries are all the others.
The application fee in Group A countries is CHF 100.00, Group B CHF 50.00. The application fee is non-refundable, but will be applied to your first membership fee.
The membership fee is:
Group A countries: CHF 1'800 for 6 Months or CHF 3'300 for one year
Group B countries: CHF 900 for 12 Months
You get a 30 day money back guarantee. If you attend the first call and you are not completely satisfied, I will refund your membership fee!
Apply now!
How to apply?
Then you're in! It's as simple as that.

Free gifts: Help convincing your Stakeholders