For leaders, managers, coaches, consultants, and project leaders who want better alignment with themselves and more impact at work.
Book one of our upcoming courses!
All course dates are guaranteed!
Our focus is currently on private training.
Contact us here
, to find out about Training and Coaching for your organization.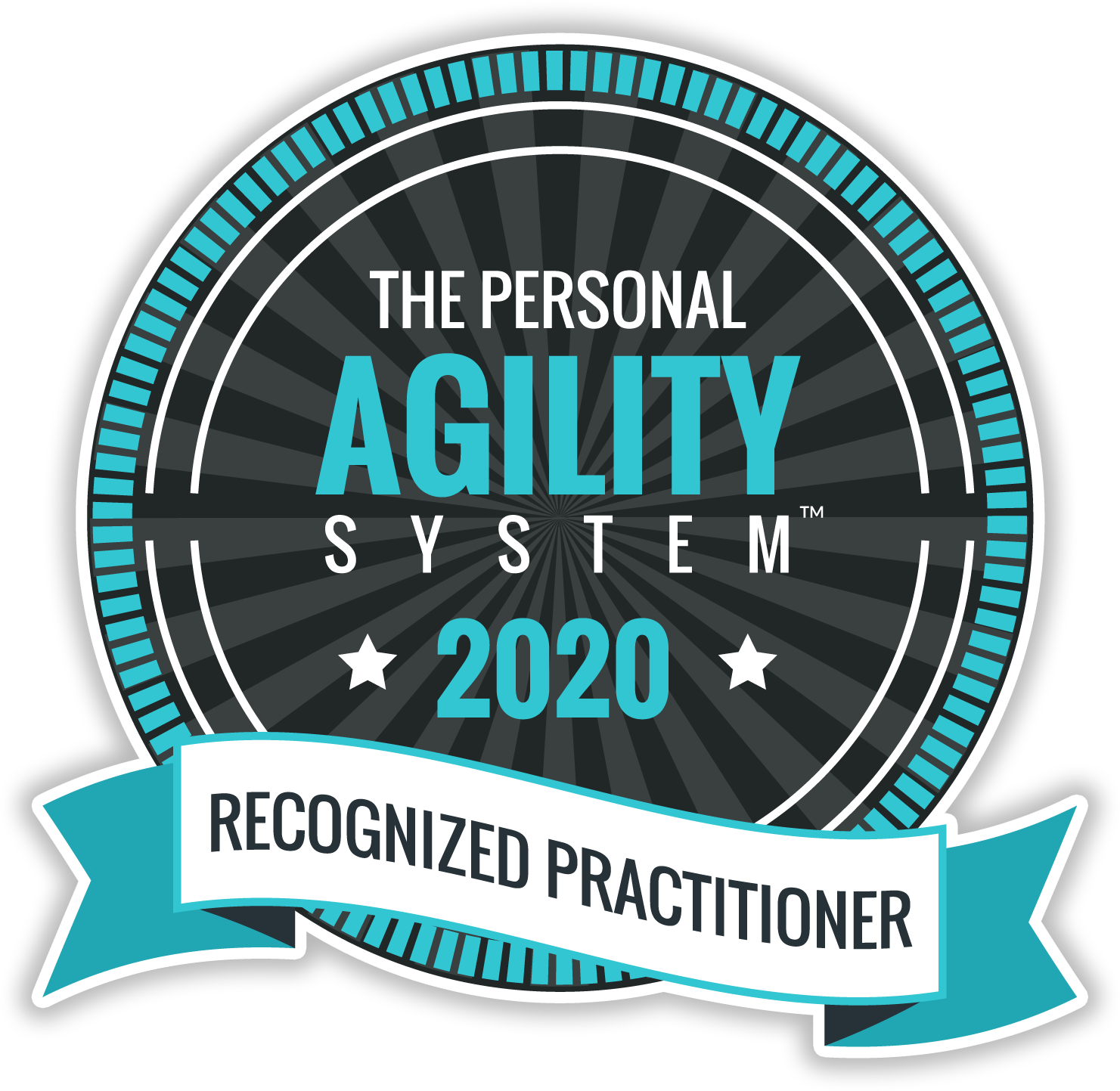 How do you know if this workshop is for you? Would you like to...
Find a balance between life and work?
Develop your coaching skills?
Deliver on your commitments?
Be more efficient and have more impact at work
Understand what employers, customers and stakeholders really want from you?
This course is ideal for you if you have:
Too much to do and not enough time to do it
Shifting priorities that prevent you from getting things done
Many projects in progress, not enough getting done
Frequent interruptions or lots of time wasted on inefficiency
Management telling you to be more "agile"
What you can expect from the Personal Agility System?
What really matters? Personal Agility is a simple coaching and leadership framework to help you get things done, deliver on commitments, and be effective at managing stakeholders.
Personal Agility is like a GPS Navigator for your life or project. You can figure out where you are, where you are going, and adjust your course to achieve your goals or become who you want to be!
This workshop will get you started with Personal Agility. After this workshop, you can get off of the treadmill and into the driver's seat!
What this workshop is and is not
This workshop...
is not about spinning the hamster wheel faster
is not about working harder or working longer
is about being more focused and effective at achieving your goals
is about developing the confidence to say 'No' when you need to
is about feeling good about what you accomplish
Free gifts: Help convincing your Stakeholders
Do you need help to convince your boss, your stakeholders or the RAV?

What you get
One day face-to-face training with Peter Stevens, Inventor of the Personal Agility System
100 Participant's handbook in printed and electronic form with content and exercises
Access to repository of course materials, templates, checklists, guides & useful information
8 SEUs/PDUs
Satisfies Training Requirement for Certification as a PARP Personal Agility Recognized Practitioner
A personalized list of discussion points for improving your life, project or organization
Certificate of attendance
Optional services, depending on the package selected
Right to change, rebook, or cancel your registration
Leadership Support -- Individual coaching sessions with Peter Stevens.
Discounted Certification Fee for the Personal Agility Institute
Book with confidence!
All course dates are guaranteed!
Our focus is currently on private training.
Contact us here
, to find out about Training and Coaching for your organization.
Inhouse Workshops
We also offer PAS Workshops as one-day or two-day in-house classes and at selected conferences. Certification from the Personal Agility Institute is optional. For more information about in-house courses and certification, please
contact us to start the conversation
!
| | | | | |
| --- | --- | --- | --- | --- |
| Package: | No Frills | Standard | Leadership | Remote Option |
| Description | Lowest Price, No frills, No changes, no cancellations | Booking Flexibility | Support for meeting your challenges as a leader | Participate without travelling to the venue |
| Delivery Format | In-Person | In-Person | In-Person | Remote using Zoom.us |
| Leadership Coaching with Peter Stevens | — | — | 2 Sessions à 1 hour each | — |
| Scrum Alliance Scrum Education Units (SEUs), Category B | 8 | 8 | 8 | 8 |
| Printed Course Book | Yes, Full Color | Yes, Full Color | Yes, Full Color | Download |
| Lunch provided at the Venue | Yes | Yes | Yes | No |
| Advance Purchase Required | 60/30 days | 1 day | 1 day | 1 day |
| Payment by credit card | No extra charges | No extra charges | No extra charges | No extra charges |
| Payment with Purchase Order | No | No | Possible | No |
| Personal Agility Starter Ket | Included | Included | Included | Included |
| Lifetime access to alumnus forum and electronic materials | Yes | Yes | Yes | Yes |
| Access to our online video introduction into Trello | Yes | Yes | Yes | Yes |
| Qualified for PARP Certification | Yes | Yes | Yes | Yes |
| | CHF 700 / 750 | CHF 950 | CHF 1'450 | CHF 850 |
All packages come with a 15-day money back guarantee! If you are not happy with the course, you can get a full refund up to 15 days after the beginning of your course. Prices exclude VAT. VAT is facultative and can be waived for private persons or exempt organizations in Switzerland.
We grant discounts of CHF 250 to Students, swissICT members, self-payers, and Leadership Circle group members on all tickets except "No Frills". We grant "Train the Team" discounts on Standard and Leadership Packages, depending on the number of people booked and invoiced together:
3 to 6 people: CHF 150.-- per person
7 to 9 people: CHF 200.-- per person
10 or more people: CHF 250.-- per person
To qualify for a train-the-team discount, all participants must be booked at the same time. If after your initial booking, you wish to book additional participants to the same class, the same discount will be applied as for your initial booking.
If you are supported by the RAV, we suggest the option "Paid by RAV." This discounted prices includes certification fees. No other discounts apply.
In general, if multiple discounts would apply, only the most beneficial discount will be applied.
Learn to apply the Personal Agility System!
Morning - Have impact and find balance
Understand The Personal Agility System and the challenge of getting things done
Deliver on Your Commitments: Get things done with the Priorities Map
Find balance: Figure out what really matters to you using the Breadcrumb Trail
Achieve long-term goals with the Forces Map
Afternoon - Be a Leader by building working relationships with managers and stakeholders
Solve problems together through coaching and powerful questions
Create alignment and trust using the Stakeholder Canvas.
Lesson Format
This interactive workshop is led by Peter Stevens. Much your the time is spent interacting with the instructor or other participants.
By the end of this program you will:
Do more of what matters for you and your stakeholders
Recognize the forces driving your life or project so that you can do something about them
Have visual tools to guide you to your goals
Have more impact through your efforts.
Achieve better outcomes, faster
With your colleagues, customers and stakeholders, you will communicate more effectively to:
Build trustful and effective relationships
Set and fulfill realistic expectations
Establish alignment up and down your organization
Improve how you are perceived by your colleagues and stakeholders
Continue improving your organization
Last but not least, you'll have your own life better under control and enjoy more fun and purpose in your work!
"It allowed me to have… gives me a good framework in context to have a meaningful conversation with my wife about actual things that we need to get done" – Rijon Erickson
"Now I feel much more focused on what is really important and what makes my life happier" – Laura Quattri
"It also gave me a wider time horizon, what I need to do today, next week, what I accomplished last week, I'll give myself a pat in the back" – George Verdolaga
"Personal Agility has given me the ability to focus inwards, you know, to try to understand what is important for me, what will make the impact for me, what will make me happy" – Surajit Das
"Now I know what is most important for me and what I have to do first, and this is the best thing I have learned from this program, to set my clear priorities" – Piyali Karmakar
"Because it gave me more focus on and helped me understand better the difference between the importance and the urgency" – Thomas Bindzus
"Personal Agility has helped me to refocus on what really matters and be much more intentional about the things that I do" – Maria Matarelli
Frequently Asked Questions
Remote Participation
Q: What tools or accounts are required for online participation?
A: Our conferencing system is Zoom.us (client required). The session is recorded. This service is free but may require registration.
Q: Can I participate when I am traveling? A: It is a full day class and you must participate for the entire class. I recommend a quiet, private space where you can talk in confidence and focus on the session. A reliable connection is essential. Trains and planes generally do not satisfy any of these expectations. If your hotel Internet is good enough, there is no reason not to participate from there.