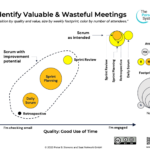 Improve your Sprint Planning with this simple tool
11-07-2023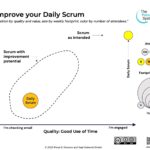 Add Energy to Your Daily Scrum
12-07-2023
Attention all Scrum enthusiasts! Prepare for an exhilarating journey into the heart of Scrum with Inside the Scrum Team. After watching this game-changing videos, you'll see Scrum like you've never seen it before. In under 15 minutes, you'll unravel the mysteries of Scrum dynamics, avoid common pitfalls, and unlock unparalleled project success. Don't miss this opportunity to revolutionize your Scrum game!
For Whom
These videos are for:
Anyone who wants to learn about Scrum and how it works. This is a quick, concise, and up-to-date introduction.
People who are already doing Scrum. Watch these videos for inspiration, then use them to start conversations about your own application of Scrum and how your might make your projects more effective and more fun.
Agile coaches and trainers who would like materials to use in discussion, in class, as preparation, or even just as teasers to build interest in doing better Scrum.
Why
I like to use videos in class. They can be effective, concise, and a welcome change of pace. My favorites, Henkrik Kniberg's Agile Product Ownership in a Nutshell, Marcel van Hove's The ScrumMaster – How to develop a team, and Pete Deemer's A Day In the Life a Scrum Master are a delight to share, because, like TED talks, the are informative, entertaining, and free of spam. I wanted video like those, to explain Scrum and provide a positive vision of how to do Scrum.
What
Inside the Scrum Team is presented in two parts, to make it easily digestible. Part 1 explains in 5 minutes the interactions of a Scrum Team with the outside world. Part 2 explains in less than 10 minutes the interactions among the members of the Scrum Team, and gives guidance for avoiding typical pitfalls. There is also a complete, 15-minute version if you want to watch it all in one shot!
The videos are available under a Creative Commons, Attribution, No Derivatives license. You can use them in any context, even commercially, as long as you give attribution and don't change it.
More information
On the homepage https://bit.ly/insideScrum, you can view all three versions, as well as download the MP4, wallpaper images, scripts, and subtitle files. I will gladly accept translations of the subtitles to upload to YouTube and would welcome synchronized versions from the community.
I hope this is useful to you!