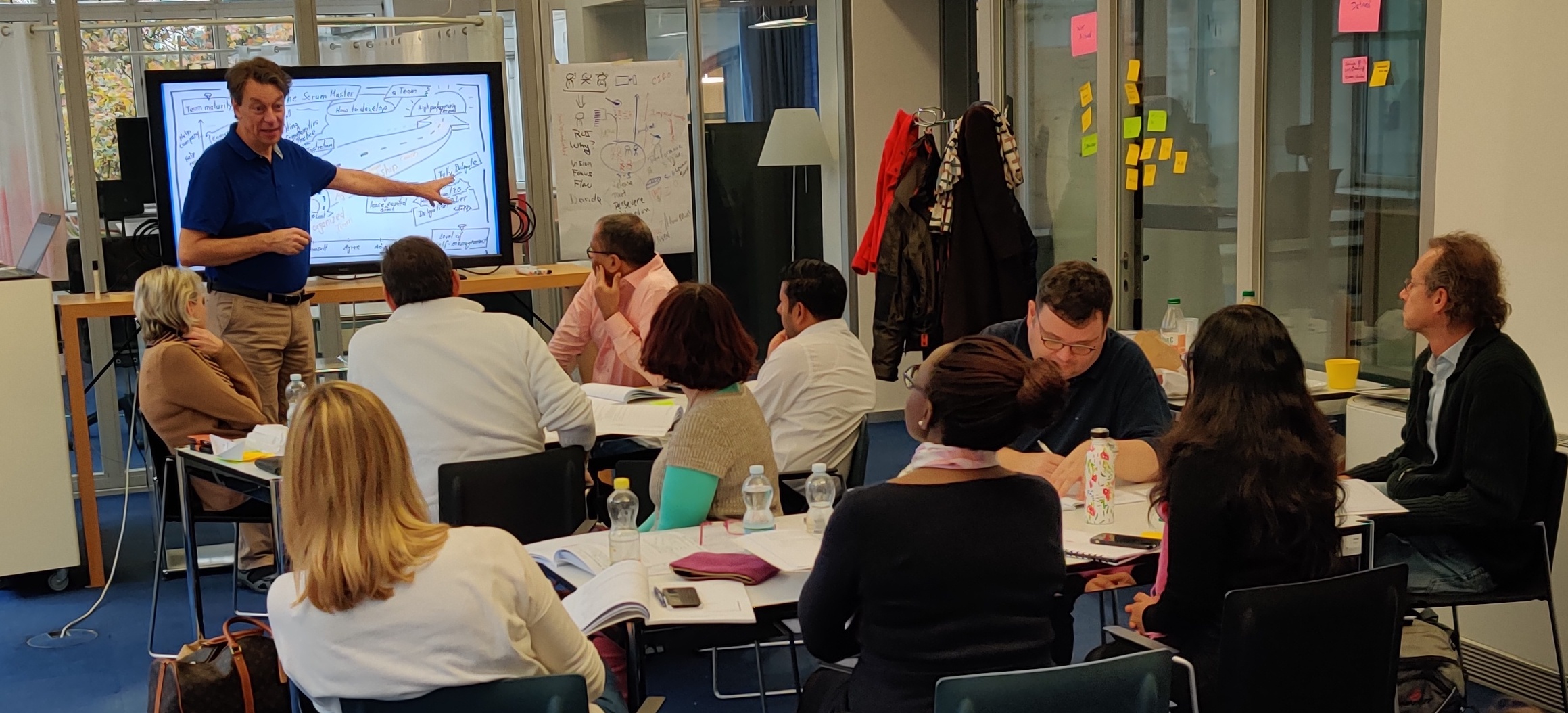 Certified Scrum Master | Face-2-Face | English | 221215-CS2
15-12-2022
Agile Leadership with Personal Agility | English | Online | 230117-PLS
17-01-2023
Date/Time
Date(s) - December 06, 2022 -
December 08, 2022
14:00 - 19:00 CET
Course Code: 221206-PLS
Location
Online (Switzerland/Europe)
Discover how to lead yourself and others in an agile way!
Apply "Agile" or agility to life or work… far beyond software development!
Module One: Leading yourself with Agility and PAS
In module one, you'll explore the basic building blocks of the Personal Agility System: purpose, celebration, choice, cadence, and dialogue.
Develop your skills the Personal Agility System
Master the challenge of completing tasks
Keep your commitments
Achieve long-term goals despite distractions, shifting priorities, and procrastination
Balance what really matters to always stay on track
By completing Module 1 and the practical portion, you will qualify as a Personal Agility Recognized Enthusiast (PARE)
Module Two: Leading Others with PAS Agile Leadership
In module two, you'll build on the fundamentals to develop key leadership skills: Lead Emergence by applying empathy to create alignment, which is the foundation for decisiveness and long-term focus.
Build working relationships with managers and stakeholders
Solve problems together with others through business coaching and powerful questions
Building agreement and trust to solve tough problems
Knowing that you or your team are on the right course and working on the right tasks
By completing Module 1, Module 2, and and the practical portion together, you qualify directly as a Peronsal Agility Recognized Practitioner (PARP)
The modules can be booked separately. However, Module 1 is a prerequisite for Module 2.
Program
Your introduction is divided into two sections: a course section where you learn how the Personal Agility System works, and a practical section where we help you apply it. The course section lasts one day per module. The practical part allows you to really apply PAS so that your learned skills develop into real skills.
Course Part
Times: 2:00pm-7:00pm (14:00-19:00) CET.
Practical Part
Times: 17:30 to 19:00 CET, every Thursday in the four weeks following the course except on holidays.
During this time, we will answer your questions to help you reach your goal and qualify for certification. The hands-on program ensures that you take advantage of what The Personal Agility System(™) has to offer! Once a week for four weeks.
Are you an RAV client?
You can ask the RAV to cover the cost of this program, they have done so in the past! However, you will have to convince them. For guidance and reasoning, download the "Free Gift" below or contact us if you need help.
Free gifts: convince your stakeholders
Need help convincing your boss, your stakeholders, or the REO?

for help.
Prices and conditions
Standard prices and discounts
Module 1: Self-leadership with agility and PAS: CHF 995
Module 2: Leading Others with PAS Agile Leadership: CHF 1,245.–
Module 1&2: Agile Leadership with Personal Agility: CHF 1,995.– instead of CHF 2,240.–. You save at least CHF 225.
Early booking discount: if you book 30 days in advance: CHF 200, if you book 60 days in advance: CHF 400, only for the full program.
Courses are exempt from VAT. Installment payment possible on request.
Participants
Please fill in all information for the participants, who will join the course. If you don't know participants yet, please enter tbd for all fields.
Bookings are closed for this event.