Certified Scrum Master | Face-2-Face | English | Nov 16-17, 2023
16-11-2023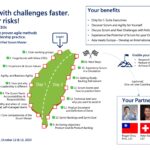 Scrum for CEOs October 12&13, 2023
12-10-2023
Date/Time
Date(s) - June 06, 2023 -
June 07, 2023
14:00 - 18:00 CET
Course Code: 230606-PAS
Location
Online (Switzerland/Europe)
Personal Agility – Your Road to Freedom and Success!
Start becoming the person you want to. Achieve your goals. Deal with distractions, procrastination, interruptions, and anything else getting in your way. Learn to be… Unstoppable!
Module One: Leading yourself with Agility and PAS
In module one, you'll explore and apply the basic building blocks of the Personal Agility System: purpose, navigation, cadence, visualization, and dialogue to do more that matters. You'll how learn to:
Achieve your goals
Overcome obstacles
Keep your commitments
Align what you do with what's important
By completing Module 1 and the practical portion, you will qualify as a Personal Agility Recognized Enthusiast (PARE)
Program
Course Part
Your introduction is divided into two sections: a course section where you learn how the Personal Agility System works, and a practical section where we help you apply it. The practical part allows you to really apply PAS so that your learned skills develop into real skills.
Times: 2:00pm-6:00pm (14:00-18:00) CET.
Practical Part
Times: 17:30 to 19:00 CET, Thursdays, two weeks and four weeks following the course.
During this time, we will answer your questions to help you reach your goal and qualify for certification. The hands-on program ensures that you take advantage of what The Personal Agility System(™) has to offer! Once a week for four weeks.
Are you an RAV client?
You can ask the RAV to cover the cost of this program, they have done so in the past! However, you will have to convince them. For guidance and reasoning, download the "Free Gift" below or contact us if you need help.
Free gifts: convince your stakeholders
Need help convincing your boss, your stakeholders, or the REO?

for help.
Prices and conditions
Module 1: Swiss residents: CHF 555 + VAT. Sale! Limited seats available for CHF 465 + VAT! Kindly pay your invoice on receipt.
Module 1: International Participants: US$ 595, on sale for $495. Kindly pay first here, then include your receipt number in the comments.
Courses are exempt from VAT. Installment payment possible on request.
Registration
Participants
Please fill in all information for the participants, who will join the course. If you don't know participants yet, please enter tbd for all fields.
Bookings are closed for this event.