Novotel Zürich West
20-01-2016
Address
Am Wasser 94
Zurich


8049
Switzerland
Courses in Zurich are moved here if the the number of participants does not require a larger room.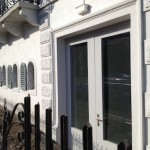 The House "zum Talgarten" was built in the 1890's and has just been renovated. This idyllic yet central location is just 70m away from the Limmat with its endless parks and trails into and out of the city. The training room is on the ground floor, and the room has a floor to ceiling glass doorway to the street for optimal daylight.
How to get there
By public transportation:
From Zurich Main Station ("Hauptbahnof"),  Tram number 17 to Zürich Hardturm or Tram 13 to Schwert, then 8 minutes on Foot.
From Zurich Altstetten: Bus 80 or 89 to Tuffenwies, then 8 minutes on foot.
From the Zurich Airport: By Taxi (about 60 CHF) or By Train to Zurich Main Station, then by Taxi (about CHF 25).
By car:
Ask Google. For parking:
The area is in a blue zone (8049). All day permits (valid for the whole city) are available online from the city (external site, in German) for CHF 15 per day. You must know your license plate number to get one.
Metered parking: Tuffenwies, under the Europabrücke, currently 50Rp/hour, Bring change. The machine takes 5 Franc pieces. 800m 10 minutes on foot
Metered parking: EWZ, Hardhof 1, right next door to the parking lot Tuffenwies, same rates, different machine
Park & Ride Zurich Hardturm, 600m, 7 minutes. Machine takes credit cards. Rate Info
Suggested Hotels
The Zuri by Fassbind. Note: noisy area due to the theatre and bars in the neighborhood. Some might see this as an advantage.
Airbnb – Focus your search on Zurich-Altstetten.
The hotels around Technopark include the Renaissance, the Novotel, IBIS, IBIS budget (probably the least expensive), and 25 hours (probably the most eclectic). Traffic is bad and public transportation is somewhat roundabout. Take the 17 from Förrlibuckstrasse or enjoy a 25 minute walk along the Limmat.
Upcoming Events
No events in this location