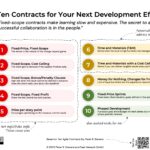 Ten Agile Contracts Infographic
30-10-2023
Backlog Refinement: What is small enough?
01-11-2023
How your team structures its work can have a huge impact on performance. Use these infographics to lead a conversation on how to work more effectively.
1.     Visualize the Sprint
Each square represents one person and a working day. How much time is available for the work of the sprint?
2.     Account for Scrum Events
About one day in ten is reserved for the main Scrum events: Planning, Review, and Retrospective add up to 4 hours per week of sprint. For a two-week sprint, that's a whole day, ½ day at the beginning and ½ day at the end. Block off one day for Scrum Events.
BTW – The Daily Scrum is time-boxed to 15 minutes per day, or about 1 hour per week. You could get fancy, but I just ignored it.
3.     Account for other meetings
Often people's first reaction to Scrum is, "Just what we need – more meetings!" In my studies, knowledge workers report spending up to 45% of their time in meetings! Make it visible, then do something about it!
4.     Cancel outside meetings!
Any time spent in a meeting is potentially time not spent doing the work of the Sprint. Cancel all external meetings except for the Scrum Events. Of course, if a meeting brings value, you can reinstate it.
Scrum events are intended to replace most other meetings. Stakeholders can review status in the Sprint Review. They can influence requirements during Backlog Refinement.
The primary job of early Scrum Masters was to deal with the bureaucracy so the rest of the team could get work done! That mission is still relevant today!
5.     Plan for the unexpected
Some things are harder than you thought. Stakeholders sometimes want something urgently during the sprint. Leave yourself some slack!
6.     Don't work as individuals, work as a team!
If Scrum team members usually work on their backlog items independently, most backlog items won't get done until near the end of the sprint. Such a team cannot handle the unexpected without disrupting the Sprint. It needs a "don't-change-the-forecast" rule to prevent a trail of undone work.
When team members work in pairs or swarms, they can finish items sooner. Beyond the improvements in speed, predictability, and quality, they also get flexibility to handle mid-sprint surprises without disrupting the sprint.
A new, high priority item can jump to the head of the queue. As soon as the team finishes an item, it can let new item (in the example, Story X) jump the queue by postponing forecast work that has not yet been started.
7. Rule of thumb
Only take backlog items into the Sprint if they are small enough. An item is small enough if the team believes they could take ten of them into the sprint.
Reserve the first item for a something from the last retrospective and the last item as a reserve for the unexpected.
Expect more about estimating in a future post.
Is this helpful? Like, share, or comment, and follow me for more.