Ready Checklist for an Agile Team
23-06-2023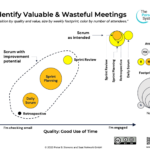 Improve your Sprint Planning with this simple tool
11-07-2023
For everyone who has too many meetings: use this simple diagram to separate the good from the bad and the wasteful. It's easy! Just draw circles and color them in.
Position the circle by quality and value: Further to the right or further up if the meeting produces a valuable result / is a good use of your time
The color of the circle depends on the number of attendees – more towards red or magenta is a large meeting. The size depends on the length of the meeting per week. If you have an 8 hour meeting every four weeks, its footprint is 2 hours per week. Bigger is more time consuming. Both are a sign that the meeting is expensive.
Warning Signs
Here are three warning signs of wasteful meetings:
Does not produce a valuable result.
Not a good use of your time.
Consumes too much time or involves too many people for the value produced.
Of course, if you have to schedule "Me time" to get work done, that is a sure sign you have too many meetings.
And remember, meeting time vs. working time is a zero-sum game! Time spent in wasteful meetings Is time you are not spending on valuable work. If you have too many wasteful meetings, follow me for ideas and suggestions on how to improve them!
Download Identify Valuable or Wasteful Meetings
How do your meetings look? What are the good ones, the bad ones, and the downright wasteful meetings? Join the conversation on LinkedIn to discuss!
Update: I realized I got color and size backwards. RC3 make the color depend on the number of people and the size dependent on the weekly footprint. You can still download RC2 if you want it.