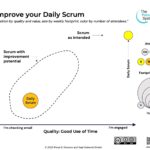 Add Energy to Your Daily Scrum
12-07-2023
In Search of the Missing Retrospective
14-07-2023
If your stakeholders — especially your users and customers — won't come to your Sprint Reviews, this is a warning sign that needs your attention! Here are some tips to up your game.
The Sprint Review is for stakeholders, especially end users and paying customers (which is not the same as a client). If they are not attending, this could be a sign that they don't care about the product. It could also be a sign that your approach to presenting the product is not engaging. And it could be a warning that your product will not be successful!
Improvements
Ensure the Sprint Review is about the product, not about the project management. No schedules, budgets, or story points. Only show working ("Done") features. Show your product and how the latest features will delight your users and customers.
Useful and Wasteful Meetings
This uses the updated version of the Useful and Wasteful Meetings graphic that I posted on Monday. An event's position depends on the quality and value of the meeting. Further to the right or further up indicates the meeting produces a valuable result / is a good use of your time.
The size of the circle depends on the number of attendees and the color depends on the time consumed. Bigger is more people, more towards magenta is more time consuming. Both are a sign that the meeting is expensive