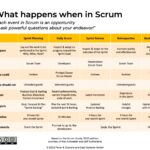 Cheat Sheet: What happens when in Scrum?
07-09-2023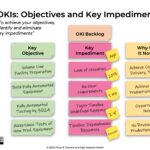 Introducing OKIs
13-09-2023
I recently spoke with a mid-level manager at division that changed hands several years ago. What was the impact? "One good thing: decision-making was moved one layer closer to the site director. That cut approval times in half! (They are still long, but much better than before)."
Which takes us to the challenge of scaling a startup: 15 people, 50 people, 150 people… Each time you scale by a factor of 3, companies typically reorganize and add a layer of management. By the time you reach 500 people, your startup probably has 5 layers of management and 100 people with some kind of management role in their job description.
Where is the value zone of your startup? Most likely at the top and at the bottom of the hierarchy. The middle – also known as the "frozen middle" – holds the company together but doesn't do the work of the company. More likely, it resists new ideas and major changes.
There's got to be a better way!
Let's go in search of better ways. Join me and Büro Züri, ZKB's Innovation Park, for an afternoon on the Lake the of Zurich as we explore this challenge together! I will share a collaborative leadership approach known as "Collective Intelligence," and we will use it to attack the challenge together!
September 20 on the Züri Schiff Ahoi. Registration:
Deutsche Version
Auf der Suche nach Agilität in der Führung
Ich habe kürzlich mit einem Manager der mittleren Ebene eines Unternehmensbereichs gesprochen, der vor einigen Jahren den Besitzer wechselte. Was waren die Auswirkungen? "Eine positive Sache: Die Entscheidungsfähigkeit wurde eine Ebene näher an den Standortleiter verlegt. Dadurch haben sich die Genehmigungszeiten halbiert! (Sie sind zwar immer noch lang, aber viel besser als vorher)."
Womit wir bei der Herausforderung wären, ein Startup zu skalieren: 15 Mitarbeiter/innen, 50 Mitarbeiter/innen, 150 Mitarbeiter/innen… Jedes Mal, wenn du um den Faktor 3 vergrösserst, organisieren sich die Unternehmen um und fügen eine weitere Managementebene hinzu. Wenn du 500 Mitarbeiter/innen erreichst, hat dein Startup wahrscheinlich 5 Managementebenen und 100 Mitarbeiter/innen, die in ihrer Stellenbeschreibung eine Art Managementfunktion haben.
Wo befindet sich der wertschöpfende Bereich deines Startups? Höchstwahrscheinlich an der Spitze und am unteren Ende der Hierarchie. Die Mitte – auch bekannt als die "eingefrorene Mitte" – hält das Unternehmen zwar zusammen, macht aber nicht die Arbeit des Unternehmens. Wahrscheinlicher ist, dass sie sich gegen neue Ideen und grösseren Wandel wehrt.
Es muss doch einen besseren Weg geben!
Lass uns auf die Suche nach besseren Wegen gehen. Komm mit mir und dem Büro Züri, dem Innovationspark der ZKB, für einen Nachmittag an den Zürichsee, um diese Herausforderung gemeinsam zu erkunden! Ich werde Rod Collins kollaborativen Führungsansatz, die "kollektive Intelligenz", vorstellen, und wir werden ihn nutzen, um die Herausforderung gemeinsam anzugehen!
September auf dem Züri Schiff Ahoi. Auf der Suche nach Agilität in der Führung. Anmeldung und Informationen