Larry Pakieser: Performing with Precision thanks to The Personal Agility System
04-08-2020
Janani Liyanage: Overcoming inner doubts to achieve true purpose with the Personal Agility System
22-08-2020
Ben Sever is CEO of eRemede, the rapidly growing Health Tech company in Tampa, Florida. Their focus is enterprise level services that are compliant with the Health Insurance Portability and Accountability Act.
Challenge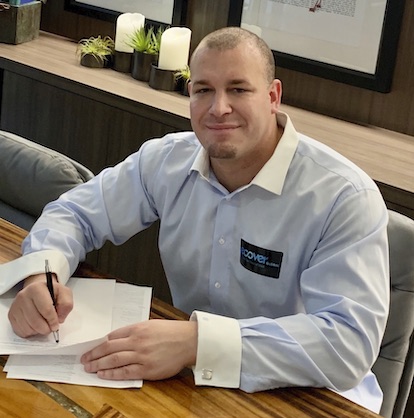 The goal was to quickly establish the company as a player in a new line of business, despite the complexity and compliance requirements of health care solution. The whole team had already been through Certified ScrumMaster (CSM) and Certified Scrum Product Owner (CSPO) training and they were already working more productively thanks to the training.
"My biggest challenge was the inability to let go and delegate large projects and deliverables to others. As a CEO, I was underutilizing my team and taking on too much. I wasn't effectively delegating to my leadership team which led to me not working at a sustainable pace."
Desired Outcome
"I hoped that the Personal Agility System would assist our entire company in understanding both ourselves and interactions with each other. I wanted my executive team to thoroughly understand the Agile mindset because they were already receptive to the business application. They knew Scrum, they knew Agile, as a concept, but Personal Agility allowed them to embody, embrace, and live optimally. If achieved, the outcome would be an organic co-creation of self-organizing teams and optimized performance."
Result
"We reached our desired valuation in half the time."

— Ben Sever, CEO eRemede

"Our original roadmap was to be worth $35 Million by the end of 3 years. We shortened the timeline to reach our desired valuation in half the time."
"I gained clarity from stepping back and shifting my focus from doing all the work myself to delegating and shifting to self-organizing teams, so instead of having just a patient engagement platform, we added two other enterprise platforms that allowed us to penetrate any vertical and expand our market reach on a global level."
Path to Success
Ben took advantage of the full palette of the Personal Agility System, including What Really Matters, the PAS Forces Map, PAS Priorities Map and Breadcrumb Trail, Celebrate and Choose and hearing stories from other Personal Agility Recognized Practitioners.
"The Personal Agility System allowed me to better understand my executive team because we're empowering each other's personal lives. It's helping us all to be able to motivate each other and understand each other."
"When you actually understand what really matters to each other, by looking at each other's Priorities Maps you can more effectively hold each other accountable to their goals in their overall life. We had visibility into each other's Forces Maps where we could see what was important to each other. This process increased the effectiveness of how the leadership team set the tone for the entire organization in getting business results. Celebrating each other's growth while reflecting on smaller wins allowed for clarity in necessary ongoing steps and actions for continuous improvement."
"We don't just use Agile in development and leadership; we truly integrate Agile in a holistic view from business to our personal lives. This accountability helped us achieve our priorities in our personal lives and in business."
"Overall, the Personal Agility System helped us achieve a culture in which delegation and motivation are appropriately in alignment. At the end of the day, we connected with people's true motivations which evolved into organic self-organization and increased efficiency. Personal Agility brought transparency to the surface which led to increased trust, which led to more effective delegation. As people felt trusted, they felt empowered and motivated. Personal Agility helped us create trust, empowerment, and alignment, which is the backbone of culture."
"Coaching had a profound impact and was an essential element of our success. I believe It's imperative for a leadership team to have a coach. It is a great way to strengthen accountability in the team. Thanks to our coach, people spoke up more authentically. Although we had worked together for years and I thought I knew them, I learned things I never knew about my leadership team and we as a team grew together."
"Having a coach maximizes the output by keeping the conversation on topic and facilitating true collaboration. There is something in the visualization and simplification that makes complex new projects seem simpler and more doable. We could see that exponential improvement didn't need exponential effort. The essential service of a coach is to ask the right questions. When the coach has experience with leaders in similar situations, their authenticity and relatability help maximize insights. Our coach ensured that our conversations covered what really mattered and created an environment where deep thinking was possible. We were able to generate new insights and genuine answers."
And
"The Personal Agility System helped my leadership team and I get visibility into each other's lives and what was important to us, which helped us become even more connected as a team in all facets of our lives. I thought they were already rock stars, but it gave me the confidence as the CEO of a multimillion-dollar company to begin to effectively delegate so that my team could grow as autonomous leaders and the company could scale. By doing this, it freed me up from doing extensive operational execution so that I could be able to focus more on the vision and strategy with my advisory board. In that step alone, we were able to go from one flagship product offering to three which tripled our total addressable market."
"As a culture-centric transparent CEO, I would recommend making Personal Agility mandatory as a part of the onboarding and business formation process, so that understanding people is the baseline and foundation of your teams."
"I do believe that if we had learned Personal Agility sooner at the beginning of our Agile journey, this road toward exit would have been smoother. Personal Agility builds trust beyond what's tangible so when you have to make tough decisions and innovative pivots, the foundation of trust minimizes disruption and enables self-organization around the change in direction. It enables increased accountability and ownership through delegation. When your culture is connected through shared trust, the roadmap to output will be smoother. We have a track record of operational efficiency, but to be able to pivot and shift seamlessly is where Personal Agility becomes essential."
"I recommend other CEOs do Personal Agility with their executive team and maximize their insights by working with a coach to create cohesive alignment between personal and professional goals. This approach will ensure that leaders will have ongoing actionable realizations the way our team did that leads to true continuous improvement."
"As our team grew and our clientele became Enterprise, we realized that it was essential to better understand our people. When leaders take the time to reflect on what really matters and take the time to understand the motivation of the people they work with every day, they are able to optimize the individual connections that lead to increased alignment."
"When we first started, our success was reliant on the value of our product, however as we began to grow, the value of our people became equally as important to our focus on the value of the product."
"If you're asking people to execute critical tasks that affect business and culture, but you've only shown them the business application of Agile, you haven't yet fully holistically empowered the person, you only gave them 50% to do the job. You didn't hire a business to work in your business, you hired a person to work in your business. Therefore, the strategy I chose to empower every person on my team was through the Personal Agility System."
"When you choose to go beyond developing a person's performance in business to include the overall quality of their personal life, it becomes true optimization because a person is at work only one third of their day. You've got two thirds of other variables impacting their mood and productivity when they come into work. It's a leader's responsibility to enlighten people and show them that their personal wellbeing is a direct catalyst to their professional happiness and growth. It's imperative to empower both if you want an ideal culture."
Excerpted from Personal Agility, by Peter Stevens and Maria Matarelli.
Get the PAS book | Take a PAS Workshop | Contact Peter
Edit: Updated 4-Sep-2020 to include two paragraphs on the value of coaching.