Learnings, Celebration, and a Call to Action at the World Agility Forum
26-09-2021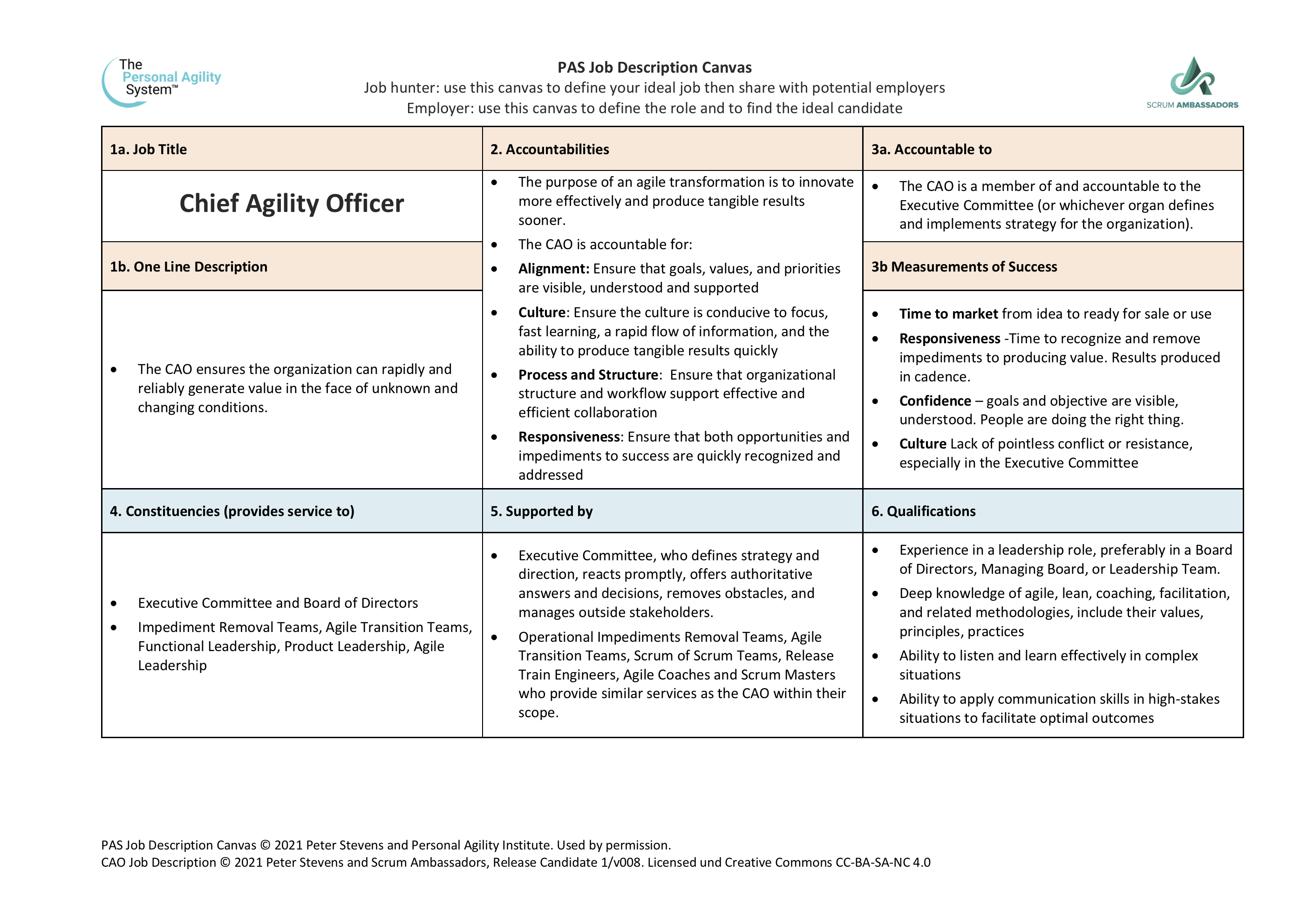 Introducing the Chief Agility Officer
04-10-2021
The World Agility Forum is a celebration of people and companies applying agility to further their goals, and a critical examination of the challenges facing modern companies. The first day was mostly about storytelling. We heard several versions of the hero's journey. Every hero's story is kind of the same: the hero starts out as a decent, normal guy. Something bad happens and the hero has an existential challenge. The hero overcomes all sorts of obstacles, climbs the mountain, wins the battle, and does what needs to be done. Afterwards, people celebrate and sing songs about the hero forever!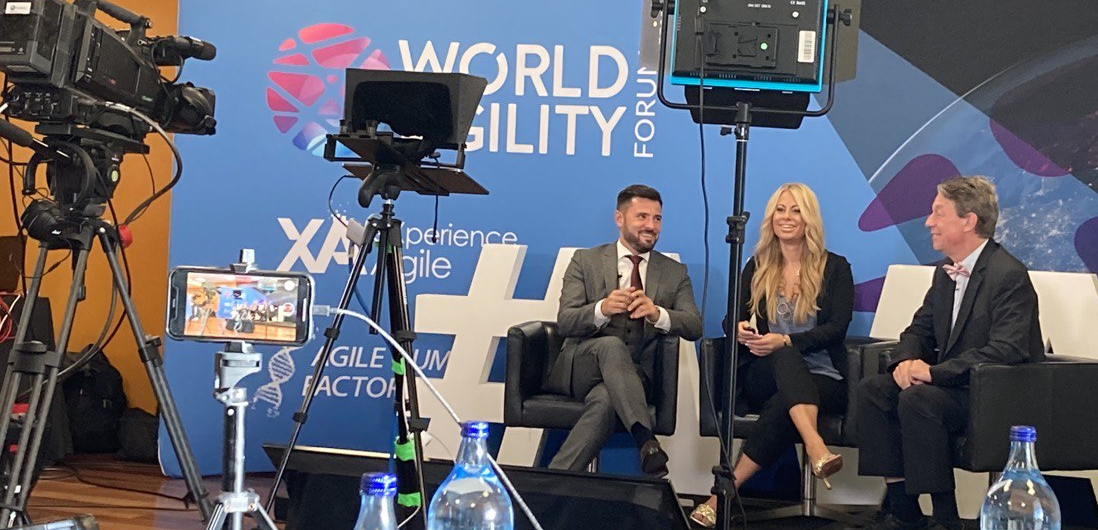 The stories we heard on Saturday included recurring themes of their own, starting with a genuine fear of death. All of the companies cited the change involved the whole company, including top leadership. It's about creating a new culture and people are at the forefront of that change. A big part of the transformation is embracing that which used to be scary. It's a journey for everyone, including company leadership.
At the gala dinner on Saturday evening, we gathered to celebrate new stories of people and companies around the world who applied agility to their challenges. The joy is real!
Why are so many companies faced with existential challenges?
During the day, we heard another story. Let's call it the "Story of the Earth," that is, what is happening in the world around us? Vivek Wadhwa painted the picture of exponential change and technological convergence and their impact on business. Information-based technologies improve on price-performance exponentially. Semi-conductors have been doing this for decades. Like processors and memory chips, batteries and photovoltaic cells have been declining in price by 28% every year. Also for decades. That is a factor of 10 reduction in price every 8 years! Artificial intelligence, gene sequencing and many other technologies are following similar trends.
When these rapidly improving technologies combine at a low enough price point, disruption occurs. For instance, internet plus full text search plus advertising (the basis of Google AdWords) spelled disruption for every industry doing print advertising, like newspapers.
I was really surprised to learn that the mRNA-based COVID-19 vaccine were designed within 48 hours of receiving the virus for sequencing. That is the result of 20 or 30 years of exponential improvement in gene sequencing. Today, the hard part is the old stuff: safety studies, building factories and distributing the vaccine. At a more personal level, I was also surprised when my talk was automatically transcribed, which I was then able to translate automatically into 3 languages with just a few mouse-clicks. Star Trek's universal translator is just around the corner! What disruption will that bring?
When multiple technologies become cheaply available and someone figures out how to combine them, dramatic changes happen. These changes can turn your company into "toast", that is kill it or make it irrelevant. In this context, sooner or later, every company will become toast.
What does this mean for you? Your company's ability to survive depends on your ability innovate beyond your home industry. You need to be able to enter new industries, combining your strengths with new opportunities. Agility makes this possible.
Q: What happened on Sunday?
My first reaction to Sunday's discussions was, 'This all seemed so much easier yesterday!' It is easy to sing the hero's exploits after they have dispatched the dragon, but hero doesn't always feel heroic during the quest. The voyage is the hard part (and this is the time when no-one appreciates the hero)! During the story, the hero is faced with a million challenges. Sunday was dedicated to those challenges.
Q: What are the challenges?
We don't know how to run a 21st century company yet. Collectively, we know how to run a 20th century company, but we are still figuring out how to meet the challenges of today.
Innovation is hard. It requires entrepreneurship and innovation. These are hard. To navigate uncertainty, you to need to create clarity and proof that the approach you are taking is correct. This a a real change from 20th century management, which might be described as "keeping the machine running smoothly."
Two central questions:
How is the purpose of the organization changing?
How does the role of leadership change?
On the first question, there is a lot of debate and experimentation going on. Should companies continue to be shareholder-focused? Or should they become customer-focused. Some companies are experimenting with employee-focused. Others are saying, we need to balance the interests of all our stakeholders, which could be the right answer or a code-word for business as usual.
What does a leader do? According to Michael Lurie, the changes are taking shape in the form of a shift in focus:
From Command to Collaboration: the leader becomes less a director, more of coach, catalyst and partner
From Competition to co-creation: the role changes from planner to architect, and leadership becomes a team sport
From Performance to Impact: the leader becomes less of a driver and more of a visionary
From Professionalism to Wholeness – less time judging, more time helping people realize their potential
From The Leader to Leadership: less time managing people, more time serving and helping the organization and the people
There are of course open questions around leadership as well. If the trend is away from the leader and more towards a leadership team, what is the next step? A leaderless organization? How would that even work?
I was pleased to see that the work of the Personal Agility Institute at the center of so many discussions. Sense-making, what really matters, building alignment.
Q: What was the good news from the WAF?
There is huge potential to impact the human condition. From clean water to clean energy, to better medicine…
For me, the most important message was many leaders eager to learn. It's like AIDA, the marketing approach. Awareness, Desire, Interest, Action. If anyone is questioning the need for the WAF, there it is! Some executives want to learn!
Some executives are starting to apply and get value from traditional agile practices, like cadence, ownership, limited WIP and tangible results at regular intervals. "We can't manage 400 initiatives simultaneously." The principles of agility taking root, even in the C-Suite!.
Above all, the change is about culture, people and attitude. As an executive, you need to learn about agility, lean, lean startup, coaching, facilitation, design-thinking and much more. So read the books and take the classes. Then look deeper. It is cultural change for the whole company. It can only develop its full potential with the executive leadership fully on board. Tools and processes are only of secondary importance.
There will also be a lot of toast.
Q: Could agility be a problem?
Steve Denning asked this question: There is lot of "Agile" out there that is just production: crank out the features! Let's call this "bad agile." Strangely, the question of whether agility is a problem led to a discussion of the CEO's role in promoting innovation.
I wish curiosity were an explicit fundamental value of the agile movement. I think a lot of bad agile can be explained by a lack of curiosity.
So I don't think agility is the problem. In fact all the examples we taked about showed how agility made the problem solvable. Agility doesn't solve the problem, you do. Agility does not make innovation easy to do. Innovation is a hard problem! To understand the importance of agility, look at the first sentence of the Agile Manifesto. I will paraphrase slightly – we are uncovering better ways of doing what we do, by do it and helping others to do it. Looks closely, and you see Learning, Collaboration and Purpose. The first value is about Individual and Interactions. Look closely more closely and you'll see it's about People and Culture.
It is great to see to executives discovering and applying agility for themselves and their organizations.