Extreme Manufacturing, Explained
25-09-2023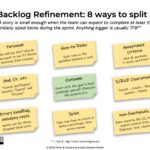 Backlog Refinement: Eight ways to split a story
04-10-2023
Agile Leadership and Decision-Making for Executives
Leadership is more than just titles; it's about conversations. Yet, many leaders fall into counterproductive patterns. Enter Rod Collins, former CEO of Blue Cross Blue Shield federal systems division, with a game-changing concept: Collective Intelligence Workshops unleash the power of your organization to align and decide on a course of action in the face of complex challenges and complex politics.
Collective Intelligence works, because nobody is smarter than everybody. And when everybody is aligned, your organization is unstoppable!
Leaders as Facilitators
Instead of traditional committee-style meetings, leaders become facilitators and stay leaders. They provide vision, guide discussions, and foster collaboration and consensus, while retaining final authority and control.
How It Works
Invite people with all the necessary expertise and authority. Not enough authority means no decision. Missing expertise means bad solutions.
Reshuffle the Seating: Break the habit of sitting with familiar faces. Mix it up to encourage cross-pollination of ideas.
Vision Sharing: Leaders present their vision or challenge.
Problem-Solution-Planning: Breakout sessions follow on problem definition, solution brainstorming, and timeline planning.
Present and Clarify: Each group presents their results without interruptions, followed by clarifying questions.
Consensus Building: Groups work towards consensus, not just voting. "I can live with that" is the mantra.
Iterate: If needed, iterate on the problem, solution, or timeline until commitment is reached.
Outcome
Collective Intelligence Workshops aim for commitment, not just agreement. It's about saying, "I support this" or "I can live with that," signifying support for the decision and direction taken.
Elevate your leadership and decision-making with this innovative approach. Have you tried it? Share your thoughts on my linkedIn Post!