Start with who, move on to why, then finish with What Really Matters! Build better relationships with your stakeholders by engaging them through the PAS Stakeholder Canvas.
Download the PAS Stakeholder Canvas as a PDF (coming: get the whole set of canvases as MS-Word templates).
This is my absolute favorite tool to start a conversation with any stakeholder in business or life! Whenever I need to get diverse interests aligned on the same page, this is where I start!
How it works
The canvas takes you through simple, repeatable steps to arrive at WRM, What Really Matters. When you agree on WRM, agreeing on what to do next becomes much easier.
Who. Who are you speaking with and what do they do?
Why, their why! What do they want to accomplish?
Challenges, Fears, and Frustrations. What is making it difficult to achieve the outcome, but technically and emotionally?
Definition of Awesome. What is the dream state (outcome, not output) your stakeholder would like to achieve?
Support. How can I support to achieve this state? Identify possible collaboration.
WRM. Summarize WRM to your stakeholder as you have understood it, and confirm that you got it right.
What's next? Define the next steps. (Hint: if you can promise and deliver something quickly, that builds trust).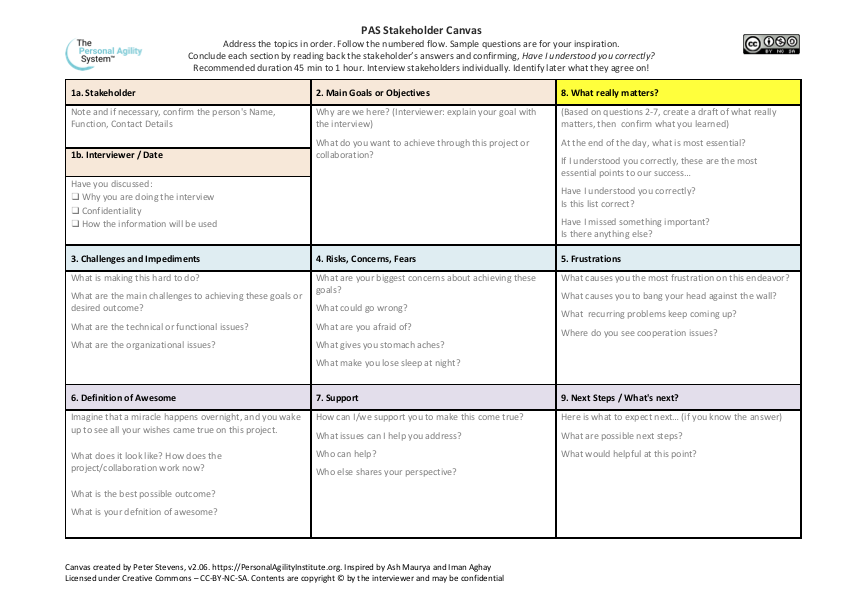 You can use the PAS Stakeholder Canvas as an interview template to prepare a major decision. You can use it to create persona or to see a persons perspective. You can even use it to figure out What Really Matters to yourself. In fact, that is a great way to get started with the canvas!
Try it now! Pick an objective you are facing, then answer the questions yourself to figure out your WRM. (Let me know how that worked for you!)
When you feel ready, try it with other people! (Again, let me know how that worked in the comments). The approach is so simple and natural that eventually it just becomes part of your conversation style.
How I use the PAS Stakeholder Canvas
The Stakeholder Canvas figures in many Personal Agility case studies, including Michael Mrochern, Andreas Kelch and Hugo Lourenco. It is a key component of both our sales process, Agile Assessments, and the Align and Decide process. I have even used it to facilitate major in decisions in a family context. You can discover its power in the Leadership Development Program with Personal Agility.
👍 Coming tomorrow: Activate the collective intelligence of your team, stakeholders, or executives with the PAS Collective Problem-Solving Canvas!
Follow me on LinkedIn for more content like this!